Providing Relief Is Our Mission
Carolina Eye Doctors is committed to helping patients find symptomatic relief, and we've dedicated our careers to this cause. We've invested in advanced procedures and conducted clinical trials to ensure that our patients receive results. Our tailored program is designed to restore and maintain clear and comfortable eyes.
Finding relief starts with understanding the cause of your dry eye disease. Our program evaluates not just the amount of tears but the chemical composition and stability of your tears.
Dealing with dry eyes? Schedule an appointment to visit us and find the relief you deserve today.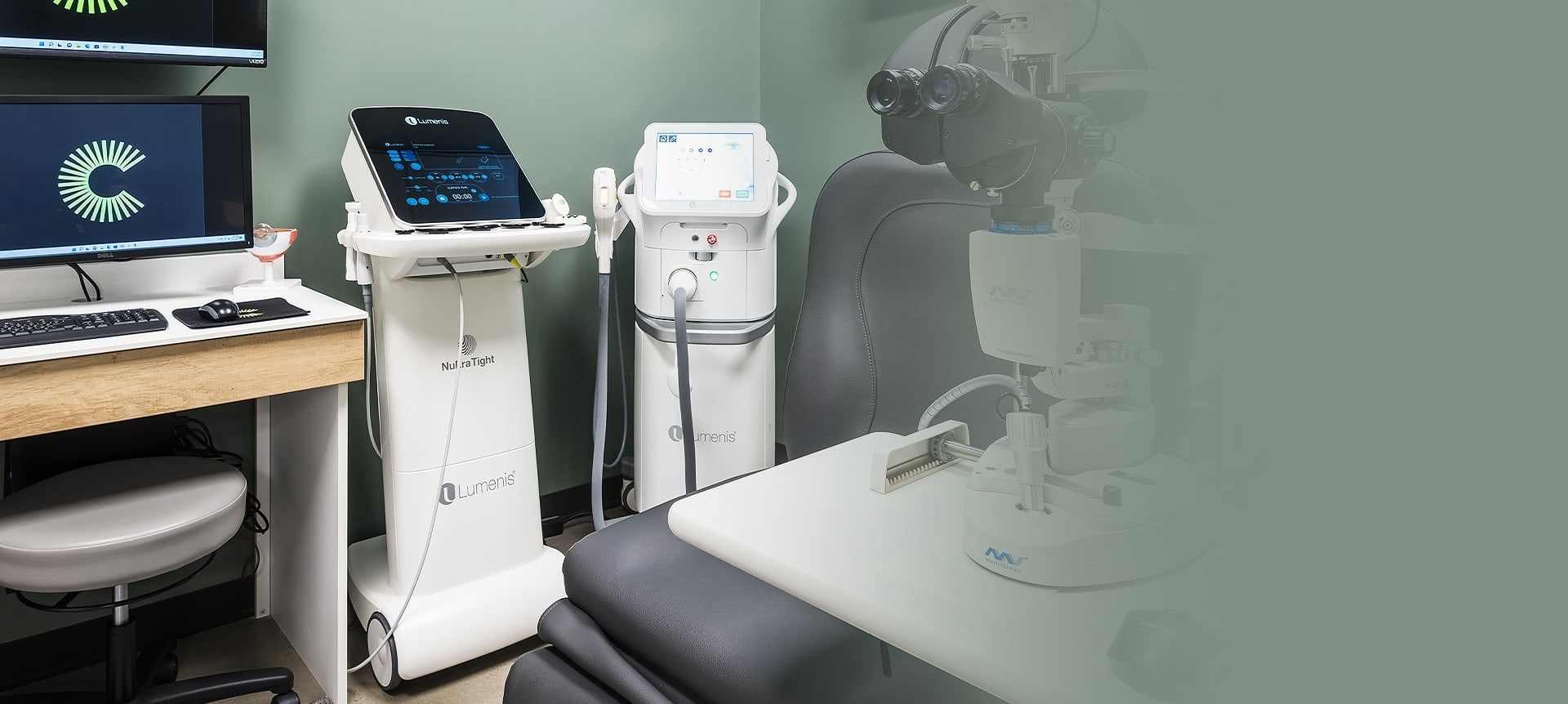 What Is Dry Eye?
Dry eye disease is a common chronic inflammatory condition caused by many factors.
Your tears are composed of 3 layers:
An oily outer layer
A watery middle layer
An inner mucus layer
If these layers are out of balance or if the tear-producing glands in your eyes aren't functioning correctly or become inflamed, you can experience chronic or acute inflamed eyes. Inflammation in your glands that create the oily layer can cause clogs and instability in the tear film, leading to meibomian gland dysfunction (MGD), the leading cause of Dry Eye Disease.
Our Dry Eye Solutions
At Carolina Eye Doctors, we take control of your dry eyes disease by treating the root causes of the issues. Whether mildly annoying or severely debilitating, we utilize combination therapy to provide long term solutions.
OptiLight IPL by Lumenis
We are thrilled to be one of the first practices in the nation to offer OptiLight intense pulsed light (IPL). OptiLight by Lumenis is noninvasive and the only FDA-approved IPL therapy for dry eye relief.
This drug-free, laser-free, light-based therapy safely and comfortably decreases Demodex, alleviates abnormal blood vessel growth, reduces inflammation, and rejuvenates the meibomian glands.
NuEra Tight by Lumenis
NuEra is an electro-medical device that creates localized heat. This noninvasive technology liquefies clogged meibomian glands for expression, safely lifts dermatochalasis (droopy lids), and stimulates collagen regeneration to reduce the appearance of fine lines and wrinkles, restoring a smoother, healthier-looking appearance.
NuEra helps you feel good and look good!
TearCare
TearCare is a 15-minute in-office treatment that comfortably applies heat to the eyelids to warm, liquefy, and express blocked glands. This treatment helps address meibomian glad dysfunction and restore the flow of the oils in your natural tear film.
Eyelid Microexfoliation
Healthy eyelids are essential for normal tear production. Poor lid hygiene can cause excess bacteria, biofilm, and bacterial toxins to accumulate on the eyelid.
Inflammatory lid diseases like anterior blepharitis and Demodex mite infestations can cause itchy, red, swollen eyelids. Eyelid microexfoliation is an in-office procedure that helps alleviate symptoms and stops itching and burning by gently exfoliating your eyelids and lashes.
Are you 1 in 40 million?
Are you suffering from dry eye? At Carolina Eye Doctors we've prepared a dry eye assessment to help you live more comfortably.
Managing Your Dry Eyes
At Carolina Eye Doctors, we know inflamed eyes can be challenging to manage. Your comfort is key—that's why we offer a variety of dry eye solutions and management services to help you find relief.
Dry eye disease can halt your productivity and impact your quality of life. Stop living with dry eyes, schedule your appointment today.
Book Appointment We'd Love To See You!
You can find us off Roberta Road in the Town Center. Please call or text us if you have any trouble finding our office.
Our Address
4350 Main Street, Suite 101

Harrisburg

,

NC

28075
Contact Us
Hours Of Operation
Monday

:

9:00 AM

–

5:00 PM

Tuesday

:

9:00 AM

–

5:00 PM

Wednesday

:

9:00 AM

–

5:00 PM

Thursday

:

9:00 AM

–

5:00 PM

Friday

:

9:00 AM

–

5:00 PM

Saturday

:

Closed

Sunday

:

Closed
Appointment Only: 8:00 AM – 9:00 AM
Closed Daily for Lunch: 1:00 PM – 2:00 PM